PRICING STRUCTURE
You are here: Prices
Swanwick has in recent years been running at a loss despite generous contributions through gift aid and from the Christadelphian Benevolent Fund. Our prices have been revised this year to reflect the actual costs charged to us by the conference centre and are set out below.
MAY 2017 GATHERING

FREE - Child 0-5
£70 - Children 6 and over
£70 - Young people & students in full time education
£145 - Standard adult
£345 - Capped family rate (if required) including students
£30 - Day visitors (inc all meals)
£6 - Conference Photograph (each)
Discounts are available for Teachers - please contact Roger & Abi Varley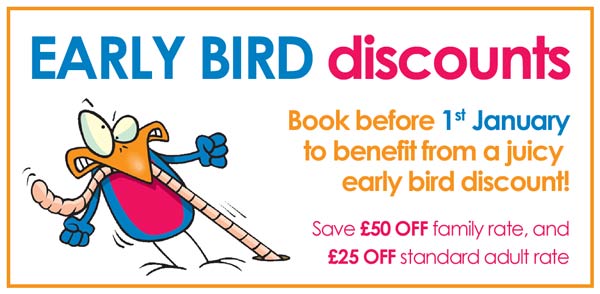 EARLY BIRD Bookings. If you book before 1st January 2017 and pay a 50% deposit, you will receive a discount of £50 off the family rate (£345 reduced to £295) and £25 off the standard adult rate (£145 reduced to £120). It (literally) pays to book early! Click here to BOOK NOW...
CONCESSIONS

The Committee are very keen that cost should not prevent you coming to Swanwick and have retained a concessionary family rate of £345 for families with children under 22 in full-time education. This rate is available through our funds and the CBF. Ecclesias often offer financial support too. Although these prices probably seem high, we regularly price check against other conference venues and do everything we can to keep the costs down.
FINANCIAL ASSISTANCE:

We appreciate the economic climate is very difficult, however we do offer financial assistance - please just ask. We'd much rather you came than you or your family missed out. Seriously, just ask.